---
Add to list
Go to activity
Activity link broken? See if it's at the internet archive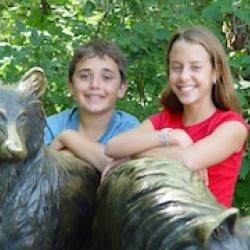 This activity (on page 3 of the PDF under GPS: Animal Scent Activity) is a full inquiry investigation into animal behavior. Learners will create five or six scent blocks by rubbing wood blocks with different kitchen spices, foods, or animal scents. Then, learners let their pets investigate each block separately. Carefully observed behaviors are recorded for interpretation. Relates to linked video, DragonflyTV GPS: Animal Scent.
Quick Guide

---

Preparation Time:

10 to 30 minutes

---

Learning Time:

1 to 2 hours

---

Estimated Materials Cost:

$5 - $10 per student

---

Age Range:

Ages 8 - 14

---

Resource Types:

Activity, Experiment/Lab Activity

---

Language:

English
Materials List (per student)
---
a variety of kitchen spices, for example, parsley, sage, cloves, cinnamon. Do not use things that could be irritants, such as cayenne pepper or hot pepper flakes.
other scents that might be interesting to animals, such as maple syrup, jelly, salami, cheese.
optional: acquire other animal scents from your hunting supply or outdoors store. You might find deer, elk, fox, or bear attractant at a store like this.
wooden blocks, such as scrap 2x4 lumber, cut to about 3 inch square. Caution: do not use green-treated lumber, or anything that has been treated with pesticide or other poisons!
a pet dog or cat!
Subjects
---
Life Sciences

Diversity of Life
Ecology
Human Senses and Perception

The Nature of Science

The Scientific Process

About Inquiry
Asking Questions
Conducting Investigations
Formulating Explanations
Informal Categories
---
Animals
Food and Cooking
Nature and Environment
Outdoor Activity
Audience
---
To use this activity, learners need to:
Learning styles supported:
Involves hands-on or lab activities
Other
---
Components that are part of this resource:
This resource is part of:
Access Rights:
By:
Source Collection
Rights:
All rights reserved, Twin Cities Public Television, Inc., 2006
Funding Source:
National Science Foundation, 515566