---
Add to list
Go to activity
Activity link broken? See if it's at the internet archive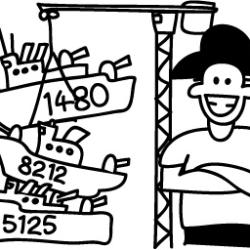 This activity explores the main algorithms that are used as the basis for searching on computers, using different variations on the game of battleships. This activity demonstrates three search methods for finding information in data: linear searching, binary searching and hashing. It also includes an optional introductory activity as well as a video showing a fun demonstration related to the same content.
Quick Guide

---

Preparation Time:

Under 5 minutes

---

Learning Time:

30 to 45 minutes

---

Estimated Materials Cost:

1 cent - $1 per group of students

---

Age Range:

Ages 8 - adult

---

Resource Types:

Activity, Demonstration, Game, Lesson/Lesson Plan

---

Language:

English, French, Greek, Italian, Polish, Portuguese, Russian, Turkish
Materials List (per group of students)
---
Pens or pencils
Numbered cards (for optional introductory activity)
Container with four or five sweets (for optional introductory activity)
Subjects
---
Engineering and Technology
Mathematics

Algebra

Equations and Inequalities

Data Analysis and Probability

Data Analysis
Data Representation

Geometry
Number and Operations
Reasoning and Proof
Representation

The Nature of Technology
Audience
---
To use this activity, learners need to:
Learning styles supported:
Involves teamwork and communication skills
Involves hands-on or lab activities
Other
---
Foreign language versions of this resource:
Components that are part of this resource:
Includes alignment to state and/or national standards:
This resource is part of:
Access Rights:
By:
Bell, Tim ; Witten, Ian ; Fellows, Mike ; Adams, Robyn ; McKenzie, Jane
Rights:
Funding Sources:
Brian Mason Scientific and Technical Trust
Google Inc.