---
Add to list
Go to activity
Activity link broken? See if it's at the internet archive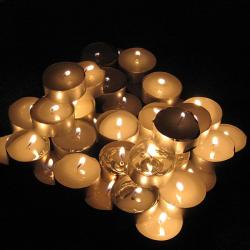 This activity teaches combustion as the interaction of a fuel source and oxygen. A burning candle is observed, then extinguished—first by a glass cup placed over it to cut off the oxygen supply, then using carbon dioxide generated by vinegar and baking soda. Some background information is provided about how car engines use gasoline as fuel, and how humans use food as fuel— both are similar to how the candle uses wax as fuel. The activity is written for a kit that can be checked out of the library, but the kit is not required.
Quick Guide

---

Preparation Time:

Under 5 minutes

---

Learning Time:

5 to 10 minutes

---

Estimated Materials Cost:

$1 - $5 per student

---

Age Range:

Ages 4 - 8

---

Resource Types:

Activity, Experiment/Lab Activity

---

Language:

English
Materials List (per student)
---
1 tea light candle
notebook
pen or pencil
matches
glass cup
vinegar
test tube
1/4 teaspoon baking soda
Subjects
---
Engineering and Technology

Engineering

Chemical Engineering
Fire Protection Engineering
Transportation Engineering

Technology

Physical Sciences

Heat and Thermodynamics
Energy
Chemistry
States of Matter

Life Sciences

Cells
Diversity of Life
Human Body

The Nature of Science

The Scientific Process

Asking Questions
Conducting Investigations
Formulating Explanations
Communicating Results
Audience
---
To use this activity, learners need to:
Learning styles supported:
Uses STEM to solve real-world problems
Involves hands-on or lab activities
Other
---
Components that are part of this resource:
This resource is part of:
Access Rights:
By:
Shaw, Maisie ; Gomez, Maria
Rights:
All rights reserved, Passport to Chemistry Adventure Program, Mount Holyoke College, 2010
Funding Source:
Camille and Henry Dreyfus Foundation, Inc.