---
Add to list
Go to activity
Activity link broken? See if it's at the internet archive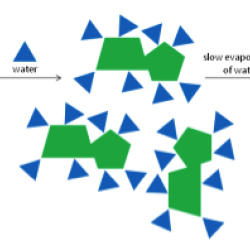 In this kitchen chemistry activity, learners explore the chemistry of crystals by making sugar crystals, consider a common chemical reaction type responsible for the rising of muffins and cake in the oven, and study the cleaning power of soap. For some of the experiments, a molecular-level view is fostered using structural diagrams of the chemicals, along with a fun "cartoon" version of the reaction with molecules represented by colored shapes (both drawn and cut out). The activity is written to be part of a kit that can be checked out of the library, but can be done without the kit.
Quick Guide

---

Preparation Time:

Under 5 minutes

---

Learning Time:

1 to 7 days

---

Estimated Materials Cost:

$5 - $10 per group of students

---

Age Range:

Ages 8 - 14

---

Resource Types:

Activity, Experiment/Lab Activity

---

Language:

English
Materials List (per group of students)
---
white string or thread
wooden stick or long spoon
paper clip
water
sugar
small sauce pan
measuring spoons
spoon or stirrer
2 beakers
plastic wrap
notebook
pen or pencil
baking soda
vinegar
graduated cylinder
pipette or dropper
2 pieces of wax paper
lipstick
soap
Subjects
---
Mathematics
Physical Sciences

Heat and Thermodynamics
Chemistry

Chemical Bonding
Chemical Reactions
Solutions

States of Matter

Solids
Liquids
Gases
Changes of Phase

Structure and Properties of Matter

The Nature of Science

The Scientific Process

Asking Questions
Conducting Investigations
Gathering Data
Formulating Explanations
Communicating Results
Audience
---
To use this activity, learners need to:
Learning styles supported:
Involves hands-on or lab activities
Other
---
Components that are part of this resource:
This resource is part of:
Access Rights:
By:
Shaw, Maisie ; Gomez, Maria
Rights:
All rights reserved, Passport to Chemistry Adventure Program, Mount Holyoke College, 2010
Funding Source:
Camille and Henry Dreyfus Foundation, Inc.