---
Add to list
Go to activity
Activity link broken? See if it's at the internet archive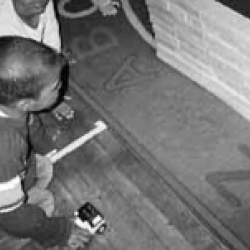 In this engineering activity (page 5 of PDF), young learners investigate how materials and design contribute to the strength of a structure, particularly walls. Learners use different materials to construct "walls" and then test the strength of each by setting up a ramp near the wall and releasing a car from the top of the ramp. Learners also watch a video clip and develop a fair test to compare the strength of the different walls they have constructed. This activity is part of the Curious George "Under Construction" lesson plan and related to the show Curious George on PBS, specifically the episode "Keep Out Cows." The lesson plan includes several activities that explore building engineering. Activities are connected to fiction and non-fiction books and include family extension projects.
Quick Guide

---

Preparation Time:

5 to 10 minutes

---

Learning Time:

45 to 60 minutes

---

Estimated Materials Cost:

$1 - $5 per group of students

---

Age Range:

Ages 4 - 8

---

Resource Types:

Activity, Lesson/Lesson Plan, Model

---

Language:

English
Materials List (per group of students)
---
TV or computer to show video
String
Clothespins
Newspaper
Ramps and toy cars
Tape
Tables or chairs
Blocks or books
Various materials: craft sticks, egg cartons, clay, play dough, small rocks, pieces of cardboard or poster board, paper tubes, paper cups, etc.
Subjects
---
Engineering and Technology

Engineering

Architectural Engineering
Civil Engineering

Technology

Physical Sciences
The Nature of Science

The Scientific Process

Conducting Investigations
Gathering Data
Formulating Explanations
Communicating Results

The Nature of Technology

The Design Process

Research and Development
Invention and Innovation
Problem Solving
Troubleshooting and Maintenance
Informal Categories
---
Literature
Model Building
Toys
Audience
---
To use this activity, learners need to:
Learning styles supported:
Involves teamwork and communication skills
Links STEM to other topics of interest such as arts and humanities
Involves hands-on or lab activities
Other
---
Components that are part of this resource:
Includes alignment to state and/or national standards:
This resource is part of:
Access Rights:
By:
Source Collection
Rights:
All rights reserved, Universal Studios, 2006
Funding Source: