---
Add to list
Go to activity
Activity link broken? See if it's at the internet archive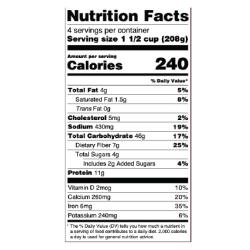 In this activity, learners will explore the foods that are in their kitchen and what sugars are inside of them. Explore nutrition and food labels to better understand the foods you eat. This activity includes step-by-step questions that guide exploration of the food we eat.
Quick Guide

---

Preparation Time:

Under 5 minutes

---

Learning Time:

5 to 10 minutes

---

Estimated Materials Cost:

$5 - $10 per group of students

---

Age Range:

Ages 4 - 14

---

Resource Type:

Activity

---

Language:

English
Materials List (per group of students)
---
Snacks from your kitchen (We recommend lots of different ones--anything with a nutrition label: candies, chips, fruits, vegetables and drinks are great starts!)
Bag of Sugar
Teaspoon
1 Quart sized sandwich bag or clear cup/container for each snack tested.
Other
---
This resource is part of:
Access Rights:
By:
Rights:
All rights reserved, Carnegie Science Center, 2021