---
Add to list
Go to activity
Activity link broken? See if it's at the internet archive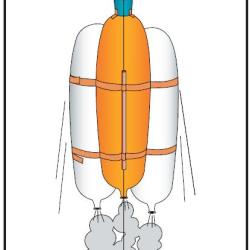 In this activity, learners work in NASA teams to build balloon-powered rockets using identical parts and compete to launch the greatest number of paper clips to "space" (the ceiling). The rockets learners build model the Ares V heavy lift launchers that carry heavy payloads into orbit. This lesson plan includes background information, tips, discussion questions and answers, and a "Mission Report" sheet for learners.
Quick Guide

---

Preparation Time:

30 to 45 minutes

---

Learning Time:

1 to 2 hours

---

Estimated Materials Cost:

$10 - $20 per group of students

---

Age Range:

Ages 8 - 14

---

Resource Types:

Activity, Experiment/Lab Activity, Lesson/Lesson Plan, Model

---

Language:

English
Materials List (per group of students)
---
Large binder clips (one per launch pad)
Fishing line or smooth string
Long balloons (sometimes called 524 airships or balloons)
Bathroom size (3 oz) paper cup
2 straight drinking straws
50 small paper clips
Sandwich size plastic bag
Masking tape
Balloon hand pumps (optional)
Wooden spring-type clothespins (optional)
Subjects
---
Earth and Space Science

Astronomy

Probes, Satellites and Spacecraft

Engineering and Technology
Mathematics

Data Analysis and Probability

Data Analysis
Data Collection
Data Representation

Number and Operations
Reasoning and Proof
Representation

The Nature of Technology

The Design Process

Research and Development
Invention and Innovation
Troubleshooting and Maintenance

Physical Sciences

Motion and Forces

Machines
Momentum and Velocity
Acceleration
Projectile Motion
Newton's Laws
Center of Gravity

Structure and Properties of Matter

The Nature of Science

The Scientific Process

Conducting Investigations
Gathering Data
Formulating Explanations
Communicating Results
Audience
---
To use this activity, learners need to:
Learning styles supported:
Involves teamwork and communication skills
Uses STEM to solve real-world problems
Involves hands-on or lab activities
Other
---
Includes alignment to state and/or national standards:
Includes assesments for student learning:
This resource is part of:
Access Rights:
By:
Shearer, Deborah A. ; Vogt, Ed.D., Gregory L.
Rights: