---
Add to list
Go to activity
Activity link broken? See if it's at the internet archive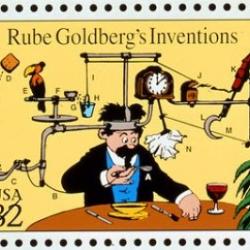 In this fun and, at times, hilarious force and motion activity, learners will use household objects to build a crazy contraption and see how far they can get a tennis ball to move. This is an excellent activity to explore all of the various forces that can act upon an object. Try visiting www.rube-goldberg.com for inspiration for your contraption.
Quick Guide

---

Preparation Time:

10 to 30 minutes

---

Learning Time:

1 to 2 hours

---

Estimated Materials Cost:

$1 - $5 per group of students

---

Age Range:

Ages 4 - adult

---

Resource Type:

Activity

---

Language:

English
Materials List (per group of students)
---
kitchen gadgets
tools
string
rubber bands
tennis ball or racquetball
fasteners, like Velcro or tape
lots of space!
Subjects
---
Engineering and Technology
Physical Sciences

Energy

Potential and Kinetic Energy

Motion and Forces

Machines
Gravity
Momentum and Velocity
Acceleration
Projectile Motion
Newton's Laws

The Nature of Technology

The Design Process

Invention and Innovation
Problem Solving
Troubleshooting and Maintenance
Audience
---
To use this activity, learners need to:
Learning styles supported:
Involves teamwork and communication skills
Uses STEM to solve real-world problems
Involves hands-on or lab activities
Other
---
Includes alignment to state and/or national standards:
Access Rights:
By:
Source Collection
Rights:
All rights reserved, COSI Columbus, 2009