---
Add to list
Go to activity
Activity link broken? See if it's at the internet archive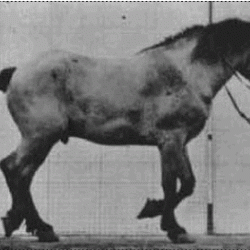 In this activity, learners explore the gait of horses by constructing flipbooks with British photographer Eadweard Muybridge's famous photographs. Learners print out three flipbooks that showcase horses walking, trotting, and galloping. Learners will explore how many hooves leave the ground at the same time when the horse trots, walks, or gallops. This activity can also be used as part of a larger unit on animation or film.
Quick Guide

---

Preparation Time:

Under 5 minutes

---

Learning Time:

10 to 30 minutes

---

Estimated Materials Cost:

$1 - $5 per student

---

Age Range:

Ages 6 - 14

---

Resource Type:

Activity

---

Language:

English
Materials List (per student)
---
thick string or shoelace
hole puncher
scissors
light cardstock paper, 8.5"x11"
Subjects
---
Life Sciences

Diversity of Life
Human Senses and Perception

The Nature of Technology
Informal Categories
---
Animals
Arts and Crafts
Photography and Film/Video
Audience
---
To use this activity, learners need to:
Learning styles supported:
Links STEM to other topics of interest such as arts and humanities
Involves hands-on or lab activities
Other
---
Components that are part of this resource:
This resource is part of:
Access Rights:
By:
Source Collection
Rights:
All rights reserved, American Museum of Natural History,