Source Institutions
---
Add to list
Go to activity
Activity link broken? See if it's at the internet archive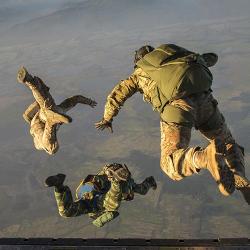 Learners engage in close observation of falling objects. They determine it is the amount of air resistance, not the weight of an object, which determines how quickly an object falls. This demonstration and activity can be combined with other activities to create a larger lesson. Resource contains vocabulary definitions and suggestions for assessment, extensions, and scaling for different levels of learners.
Quick Guide

---

Preparation Time:

5 to 10 minutes

---

Learning Time:

30 to 45 minutes

---

Estimated Materials Cost:

$1 - $5 per group of students

---

Age Range:

Ages 11 - 18

---

Resource Types:

Activity, Demonstration, Experiment/Lab Activity

---

Language:

English
Materials List (per group of students)
---
One Styrofoam or plastic cup
Water
5-gallon bucket
Drop cloth or tarp (or conduct demo outside)
Balls of different sizes and weights
A book and a sheet of cardboard of the same length and width as the book
Objects that encounter more air resistance when dropped than the other objects (i.e., a feather or a sheet of paper)
Other options for objects to drop: coins, plastic bag, play plastic army men, or other objects that are exactly the same.
Subjects
---
Physical Sciences
The Nature of Science

The Scientific Process

Conducting Investigations
Gathering Data
Audience
---
To use this activity, learners need to:
Learning styles supported:
Involves hands-on or lab activities
Other
---
Components that are part of this resource:
Includes alignment to state and/or national standards:
This resource is part of:
Access Rights:
By:
Zamora-Thompson, Xochitl ; Heavner, Ben ; Schaefer Zarske, Malinda ; Carlson, Denise
Source Collection
Rights:
All rights reserved, Regents of the University of Colorado, 2004
Funding Sources:
Fund for the Improvement of Postsecondary Education (FIPSE)
U.S. Department of Education
National Science Foundation, 0226322