---
Add to list
Go to activity
Activity link broken? See if it's at the internet archive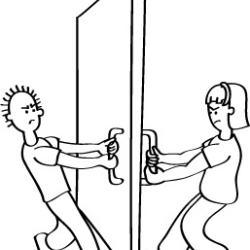 In this activity about human interface design issues, learners help the Oompa-Loompas of a great chocolate factory solve different problems. Through this exercise, learners will explore affordance, mapping, transfer effects, population stereotypes, and visible constraints. Variations, extensions, background information and further reading suggestions are included in the PDF.
Quick Guide

---

Preparation Time:

5 to 10 minutes

---

Learning Time:

1 to 2 hours

---

Estimated Materials Cost:

free per group of students

---

Age Range:

Ages 8 - 18

---

Resource Types:

Activity, Lesson/Lesson Plan, Simulation

---

Language:

English
Subjects
---
Engineering and Technology

Computing

Computer Science
Information Systems
Information Technology

Engineering

Civil Engineering
Computer Engineering
Manufacturing Engineering

Technology

Information and Communication
Manufacturing

Mathematics
The Nature of Technology

Technology and Society
The Design Process

Troubleshooting and Maintenance

The Nature of Science
Audience
---
To use this activity, learners need to:
Learning styles supported:
Involves teamwork and communication skills
Involves hands-on or lab activities
Other
---
Foreign language versions of this resource:
Components that are part of this resource:
Includes alignment to state and/or national standards:
This resource is part of:
Access Rights:
By:
Bell, Tim ; Witten, Ian ; Fellows, Mike
Rights:
Funding Sources:
Brian Mason Scientific and Technical Trust
Google Inc.