---
Add to list
Go to activity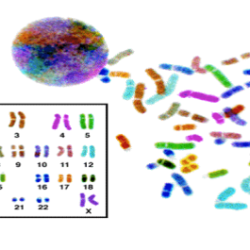 Learners observe a model of a cell and its chromosomal DNA made from a plastic egg and dental floss. Use this model to illustrate how much DNA is held in one cell. For comparison, multiple eggs can be prepared representing different species and their DNA. Introduce the demonstration by talking about the actual size of cells and DNA. Activity contains extension questions to assess learners' understanding.
Quick Guide

---

Preparation Time:

5 to 10 minutes

---

Learning Time:

1 to 2 hours

---

Estimated Materials Cost:

1 cent - $1 per group of students

---

Age Range:

Ages 8 - 18

---

Resource Types:

Activity, Demonstration, Lesson/Lesson Plan, Model

---

Language:

English
Materials List (per group of students)
---
2 1/2 inch plastic two-piece egg (typically sold as Easter eggs in craft stores)
50 yard spool of dental floss
Subjects
---
Life Sciences

Cells

Cell Structure and Function

Heredity and Genetics

DNA Structure and Function

Physical Sciences
Mathematics

Measurement

Units of Measurement
Size and Scale
Audience
---
To use this activity, learners need to:
Learning styles supported:
Involves hands-on or lab activities
Other
---
Components that are part of this resource:
Includes alignment to state and/or national standards:
Includes assesments for student learning:
Access Rights:
By:
American Society for Microbiology; Gallo, Ph.D., Mark ; Wessner, Ph.D., David R.
Rights:
All rights reserved, American Society for Microbiology, 2012