---
Add to list
Go to activity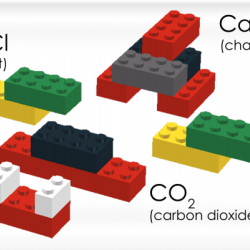 This activity uses LEGO® bricks to represent atoms bonding into molecules and crystals. The lesson plan is for a 2.5 hour workshop (or four 45-minute classes). There is a "wet lab" chemistry experiment (mixing baking soda and calcium chloride with phenol red indicator), followed by a "LEGO lab" modeling phase that includes writing formulas using chemical notation. This lesson is also offered as a 2.5 hour field trip lesson at the MIT Edgerton Center.
Quick Guide

---

Preparation Time:

10 to 30 minutes

---

Learning Time:

2 to 4 hours

---

Estimated Materials Cost:

Over $20 per group of students

---

Age Range:

Ages 11 - adult

---

Resource Types:

Activity, Experiment/Lab Activity, Field Trip, Lesson/Lesson Plan, Model

---

Language:

English
Materials List (per group of students)
---
Baking soda, 1 lb box
Calcium chloride, a common de-icer found in grocery stores -- 9 lb container will be more than enough for 5 classes
Phenolsulfonphthalein (phenol red) in aqueous solution (0.02% weight by volume, 500ml solution)
Covered test tubes or vials, 10-15 ml capacity
Resealable freezer bags 1-2 qt size, 3 bags per student pair -- the kind with a zipper may not hold the gas in very well
Plastic spoons, 2 per student pair
50 ml beakers or similar container, 2 per 4 students
Large tray, 1 for every pair
Book of matches
Pencils and erasers
Splash goggles
Chemical bin (optional)
Gloves (optional)
LEGO Atoms and Molecules Kit, 1 kit per student pair -- 24 white 1x2, 4 grey 2x4, 12 black 2x4, 8 yellow 2x4, 8 green 2x4, 36 red 2x4, 32 blue 2x4
6 petri dishes (or other small plates)
1 coffee filter
1 50 ml graduated cylinder
1 piece of thin cardboard
1 rubber band
Subjects
---
Physical Sciences

Heat and Thermodynamics
Chemistry

Chemical Bonding
Chemical Reactions
Acids and Bases

States of Matter

Solids
Liquids
Gases
Changes of Phase

Structure and Properties of Matter

Atomic Structure
Elements and Periodic Table

The Nature of Science

The Scientific Process

Asking Questions
Conducting Investigations
Gathering Data
Formulating Explanations
Communicating Results
Audience
---
To use this activity, learners need to:
see
see color
read
smell
touch
Learning styles supported:
Involves teamwork and communication skills
Involves hands-on or lab activities
Other
---
Components that are part of this resource:
Includes alignment to state and/or national standards:
This resource is part of:
Access Rights:
By:
Vandiver, Ph.D., Kathleen M.
Rights:
All rights reserved, MIT Edgerton Center, 2009
Funding Source: