---
Add to list
Go to activity
Activity link broken? See if it's at the internet archive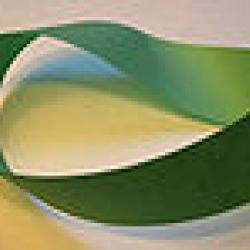 In this tabletop activity (on pages 32-40), learners make Möbius strips -- 3D surfaces with only one side. They compare and contrast regular paper loops with Möbius strips, tracing the sides with pens and cutting them in halves and thirds with scissors. The activity suggests two extensions where you make 3 linked paper rings with paper trickery. Some of the tricks use Möbius topology, while others are simpler shapes.
Quick Guide

---

Preparation Time:

30 to 45 minutes

---

Learning Time:

10 to 30 minutes

---

Estimated Materials Cost:

1 cent - $1 per student

---

Age Range:

Ages 4 - adult

---

Resource Type:

Activity

---

Language:

English
Materials List (per student)
---
Scissors
Tape or glue stick
Lengths of paper cut about 3 inches wide and 12 inches long. Adding machine tape, butcher paper, and 11"x17" copy paper would all be good choices. Other lengths and widths are fun to play with, like really huge lengths of butcher paper.
Markers, crayons, pens, or pencils (it is useful to have at least two colors for the demonstration).
Subjects
---
Mathematics

Geometry

Plane Geometry
Solid Geometry

Reasoning and Proof

The Nature of Technology
Audience
---
To use this activity, learners need to:
Learning styles supported:
Involves hands-on or lab activities
Other
---
Access Rights:
By:
Rights: