---
Add to list
Go to activity
Activity link broken? See if it's at the internet archive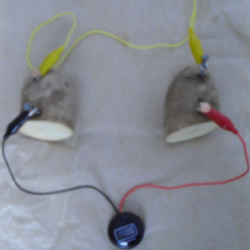 In this electrochemistry activity, young learners and adult helpers create a battery from a potato to run a clock. This resource includes background information about electricity, electronics, and chemical reactions. Learners can also test this experiment with other fruits and vegetables in place of the potato. This activity was written to be part of a kit that could be checked out of a library, though the kit is not required.
Quick Guide

---

Preparation Time:

10 to 30 minutes

---

Learning Time:

10 to 30 minutes

---

Estimated Materials Cost:

$5 - $10 per student

---

Age Range:

Ages 4 - 8

---

Resource Types:

Activity, Experiment/Lab Activity

---

Language:

English
Materials List (per student)
---
Simple
 stick 
on 
clock
 with
 red 
and
 black leads 
soldered
 onto
 the
 +
 and
 –
 terminals
Battery to run clock
Wire 
with 
alligator
 clips
2 copper
 coated 
nails
2 zinc
 coated
 nails
Potato
 and
 other
 potential 
fruit
 or
 vegetables
 to
 test
Subjects
---
Engineering and Technology
Physical Sciences

Electricity and Magnetism

Electric Charges and Currents
Electric Circuits

Energy
Chemistry

Chemical Reactions
Oxidation-Reduction Reactions

Structure and Properties of Matter

Atomic Structure
Elementary Particles and Nuclear Physics

Life Sciences
The Nature of Science

The Scientific Process

Conducting Investigations
Informal Categories
---
Electronics
Food and Cooking
Audience
---
To use this activity, learners need to:
Learning styles supported:
Uses STEM to solve real-world problems
Involves hands-on or lab activities
Other
---
Components that are part of this resource:
This resource is part of:
Access Rights:
By:
Shaw, Maisie ; Gomez, Maria
Rights:
All rights reserved, Passport to Chemistry Adventure Program, Mount Holyoke College, 2010
Funding Source:
Camille and Henry Dreyfus Foundation, Inc.