---
Add to list
Go to activity
Activity link broken? See if it's at the internet archive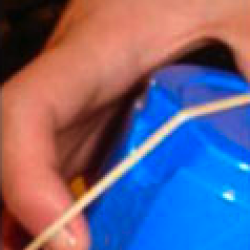 In this activity, learners imitate the way vocal cords work by building a model from a plastic cup, rubber band, and a straw. Then learners blow through the straw onto the model, and listen to the strange sounds it makes by varying how hard they blow, or at what angle they blow. You can try to vary the sounds by varying the materials used as well.
Quick Guide

---

Preparation Time:

5 to 10 minutes

---

Learning Time:

10 to 30 minutes

---

Estimated Materials Cost:

1 cent - $1 per student

---

Age Range:

Ages 6 - 14

---

Resource Types:

Activity, Model

---

Language:

English
Materials List (per student)
---
plastic cup
rubber bands
plastic straw
your lungs!
Subjects
---
Life Sciences

Human Body
Human Senses and Perception

Physical Sciences
Audience
---
To use this activity, learners need to:
Learning styles supported:
Involves hands-on or lab activities
Other
---
Foreign language versions of this resource:
Includes alignment to state and/or national standards:
This resource is part of:
Access Rights:
By:
Funding Sources:
Harman International
NEC Foundation of America
National Science Foundation