---
Add to list
Go to activity
Activity link broken? See if it's at the internet archive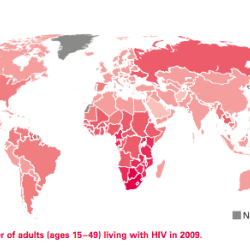 In this activity, learners act as epidemiologists by mapping the prevalence of HIV/AIDS worldwide. Learners discover that many countries with high HIV infection rates have low levels of per capita income and education, two characteristics often linked with disease.
Quick Guide

---

Preparation Time:

10 to 30 minutes

---

Learning Time:

1 to 2 hours

---

Estimated Materials Cost:

$1 - $5 per group of students

---

Age Range:

Ages 8 - 18

---

Resource Types:

Activity, Lesson/Lesson Plan

---

Language:

English
Materials List (per group of students)
---
Set of Adult HIV/AIDS Prevalence Rate, by Country Tables sheets (pg.7-11 of PDF)
Large political world map mounted in a central location or find and download a world map from the Internet using the search terms, "world," "map," and "countries." Enlarge the map to poster-size so that smaller countries, especially in Europe, can be identified.
Map pins or push pins (or small colored stick-on dots) in six colors
Internet access to geography websites or a current world atlas
Fine point ballpoint pen with which to score cardstock before folding (felt- or gel-tipped pens are not appropriate)
Copies of Where in the World and enlarged copies of black world map (pg.5-6 of PDF)
Subjects
---
Life Sciences

Diversity of Life
Ecology
Human Body

Health and Nutrition
Immune System

Mathematics

Data Analysis and Probability

Data Analysis
Data Representation

Measurement

The Nature of Science
Audience
---
To use this activity, learners need to:
Learning styles supported:
Involves teamwork and communication skills
Links STEM to other topics of interest such as arts and humanities
Uses STEM to solve real-world problems
Involves hands-on or lab activities
Other
---
Components that are part of this resource:
Includes alignment to state and/or national standards:
This resource is part of:
Access Rights:
By:
Vogt, Ed.D., Gregory L. ; Moreno, Ph.D., Nancy P.
Rights:
All rights reserved, Baylor College of Medicine, 2011
Funding Source:
Science Education Partnership Award from the National Center for Research Resources (NCRR) of the National Institutes of Health (NIH), 5R25 RR018605