---
Add to list
Go to activity
Activity link broken? See if it's at the internet archive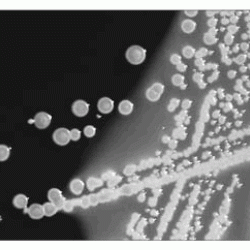 In this four-day activity, learners grow bacteria and/or fungi from a variety of locations and compare the results. They will learn that microbes are everywhere; some such as bacteria and fungi grow readily on sources of food and water. This lesson guide includes background information, safety considerations, and extensions.
Quick Guide

---

Preparation Time:

30 to 45 minutes

---

Learning Time:

1 to 7 days

---

Estimated Materials Cost:

$10 - $20 per group of students

---

Age Range:

Ages 8 - 14

---

Resource Types:

Activity, Experiment/Lab Activity, Lesson/Lesson Plan

---

Language:

English
Materials List (per group of students)
---
750 mL of nutrient agar (purchase as powder or bottled agar gel)
33 100-mm sterile, disposable Petri dishes (to prepare 30 dishes with agar and 3 dishes for templates for student drawings)
36 small, resealable plastic bags
Chlorine bleach solution
Cotton swabs, 100 count box
Disinfectant (liquid soap or spray)
Hot pads or pot holders
Paper towels
Resealable plastic bag, medium-size
Container of distilled or boiled water
Magnifiers or low power microscopes
Masking tape
Permanent marker or wax pencil
Colored pencils or markers
12 sheets of white paper for observations (3 per learner)
Graph or plain paper
Group concept map (ongoing, if available)
Subjects
---
Life Sciences

Cells

Cell Structure and Function

Diversity of Life

Viruses and Bacteria
Protists and Fungi
Classification

Ecology
Human Body

Health and Nutrition
Medicine
Immune System

Mathematics

Data Analysis and Probability

Data Analysis
Data Collection

The Nature of Science

The Scientific Process

Conducting Investigations
Gathering Data
Formulating Explanations
Communicating Results
Informal Categories
---
Food and Cooking
Nature and Environment
Audience
---
To use this activity, learners need to:
Learning styles supported:
Involves teamwork and communication skills
Involves hands-on or lab activities
Other
---
Components that are part of this resource:
Includes alignment to state and/or national standards:
Includes assesments for student learning:
This resource is part of:
Access Rights:
By:
Moreno, Nancy P. ; Tharp, Barbara Z. ; Erdmann, Deanne B. ; Clayton, Sonia Rahmati ; Denk, James P.
Rights:
All rights reserved, Baylor College of Medicine, 2008
Funding Source:
Science Education Partnership Award, 5R25 RR018605