---
Add to list
Go to activity
Activity link broken? See if it's at the internet archive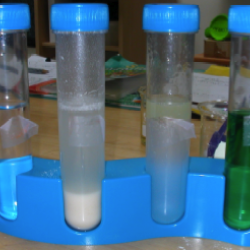 In this chemistry investigation, learners combine common cooking substances (flour, baking powder, sugar, salt, pepper, oil, water, food coloring) to explore mixtures. Both homogeneous (whole thing looks the same) and heterogeneous (looks different in different sections) mixtures are created. Static electricity is used to separate salt from pepper. Soap is used to make oil and water mix. Baking powder (an inhomogeneous mixture) is mixed with water to produce a gas. The activity was designed as a kit that could be checked out of a library, but can be done without the kit.
Quick Guide

---

Preparation Time:

Under 5 minutes

---

Learning Time:

10 to 30 minutes

---

Estimated Materials Cost:

$10 - $20 per student

---

Age Range:

Ages 4 - 8

---

Resource Types:

Activity, Experiment/Lab Activity

---

Language:

English
Materials List (per student)
---
1 
bottle
 of 
salt
1
 bottle
 of
 soap
1
 bottle
 of 
pepper
1
 bottle
 of 
oil
2 pieces of wax paper
1
 bottle
 of 
food
 coloring
1
 sugar
 cube
1
 paper 
plate
1
 lipstick
4
 plastic 
test 
tubes 
w/
caps
1
 balloon
water (hot and cold)
flour
notebook and pen/pencil
1 pipette
2 teaspoons of baking powder
ingredients for muffins (optional)
Subjects
---
Physical Sciences

Electricity and Magnetism

Electric Charges and Currents

Chemistry

Chemical Reactions
Solutions

States of Matter

Solids
Liquids
Gases
Changes of Phase

Structure and Properties of Matter

Atomic Structure
Elementary Particles and Nuclear Physics

The Nature of Science

The Scientific Process

Asking Questions
Conducting Investigations
Gathering Data
Formulating Explanations
Communicating Results
Audience
---
To use this activity, learners need to:
Learning styles supported:
Uses STEM to solve real-world problems
Involves hands-on or lab activities
Other
---
Components that are part of this resource:
This resource is part of:
Access Rights:
By:
Shaw, Maisie ; Gomez, Maria
Rights:
All rights reserved, Passport to Chemistry Adventure Program, Mount Holyoke College, 2010
Funding Source:
Camille and Henry Dreyfus Foundation, Inc.