---
Add to list
Go to activity
Activity link broken? See if it's at the internet archive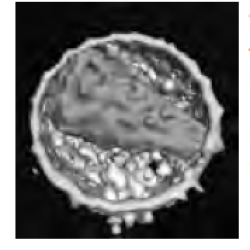 This activity helps learners visualize the Human Immunodeficiency Virus (HIV) by constructing three-dimensional HIV particle models from paper. The model to be used is a 20-sided polyhedron (icosahedron) and represents a complete viral particle. Learners combine their finished models into one mass. This is a first step toward estimating how many HIV particles could be contained inside a white blood cell before being released into the blood stream to attack new cells.
Quick Guide

---

Preparation Time:

10 to 30 minutes

---

Learning Time:

1 to 2 hours

---

Estimated Materials Cost:

1 cent - $1 per student

---

Age Range:

Ages 8 - 18

---

Resource Types:

Activity, Lesson/Lesson Plan, Model

---

Language:

English
Materials List (per student)
---
Modeling an HIV Particle sheet printed on white card stock paper (p.5 of PDF)
Scissors
Cellophane tape
Metric ruler with straight edge
Fine point ballpoint pen with which to score cardstock before folding (felt- or gel-tipped pens are not appropriate)
Colored markers or pencils for coloring the models (not crayons)
Subjects
---
Life Sciences

Cells

Cell Structure and Function
Cell Division

Diversity of Life
Human Body

Health and Nutrition
Immune System

Mathematics

Measurement

Units of Measurement
Size and Scale
Circles
Audience
---
To use this activity, learners need to:
Learning styles supported:
Involves hands-on or lab activities
Other
---
Components that are part of this resource:
Includes alignment to state and/or national standards:
Access Rights:
By:
Vogt, Ed.D., Gregory L. ; Moreno, Ph.D., Nancy P.
Rights:
All rights reserved, Baylor College of Medicine, 2011
Funding Source:
Science Education Partnership Award from the National Center for Research Resources (NCRR) of the National Institutes of Health (NIH), 5R25 RR018605