---
Add to list
Go to activity
Activity link broken? See if it's at the internet archive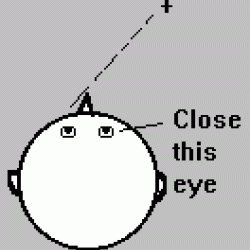 In this activity, learners investigate visual perception as well as plan and conduct their own experiments. In "CLASS EXPERIMENT," learners discover how depth perception works by testing their ability to perform motor tasks with one eye or two eyes. In "TRY YOUR OWN EXPERIMENT," learners design experiments investigating visual illusions, such as shadow vs. figure, length of lines, or apparent size. They can investigate visual attention with "minimum difference tests." This lesson plan includes background information and guides for educators and learners.
Quick Guide

---

Preparation Time:

5 to 10 minutes

---

Learning Time:

1 to 2 hours

---

Estimated Materials Cost:

1 cent - $1 per group of students

---

Age Range:

Ages 8 - 18

---

Resource Types:

Activity, Experiment/Lab Activity, Lesson/Lesson Plan

---

Language:

English
Materials List (per group of students)
---
Pencils or pens
Measuring tools (cloth tape or meter stick)
Plastic cups, beakers or other sturdy containers
Small objects such as clothespins, small legos, paper clips
Paper and markers or pens
Rulers
Subjects
---
Life Sciences

Human Body

The Brain and Nervous System

Human Senses and Perception

Mathematics

Data Analysis and Probability

Data Analysis
Data Collection
Data Representation
Probability

Measurement
Reasoning and Proof
Representation

The Nature of Technology
Physical Sciences

Vibration and Waves
Light and Optics

The Nature of Science

The Scientific Process

Asking Questions
Conducting Investigations
Gathering Data
Formulating Explanations
Communicating Results
Audience
---
To use this activity, learners need to:
Learning styles supported:
Involves teamwork and communication skills
Involves hands-on or lab activities
Other
---
Components that are part of this resource:
Includes alignment to state and/or national standards:
This resource is part of:
Access Rights:
By:
Murray Ph.D., Marjorie A.
Rights:
All rights reserved, Eric H. Chudler, 2009