---
Add to list
Go to activity
Activity link broken? See if it's at the internet archive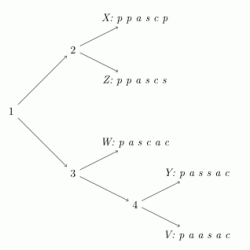 This activity lets learners participate in the process of reconstructing a phylogenetic tree and introduces them to several core bioinformatics concepts, particularly in relation to evolution. Groups of learners (at least 10) repeat a secret message (five to seven similar-sounding words) like the game "Telephone". In this version of the game, however, learners write and then code what they hear, creating a model of a phylogenetic tree and using a species distance matrix. This resource includes background information about phylogenetic trees, maximum parsimony, and matrix theory (see page 6-7 of PDF).
Quick Guide

---

Preparation Time:

Under 5 minutes

---

Learning Time:

30 to 45 minutes

---

Estimated Materials Cost:

1 cent - $1 per group of students

---

Age Range:

Ages 8 - 18

---

Resource Types:

Activity, Game, Lesson/Lesson Plan

---

Language:

English
Materials List (per group of students)
---
A predetermined "secret message" written on a slip of paper
A blackboard or whiteboard
Small slips of paper for writing down the secret message
Paper for reconstructing the path of the message
Pencils
Subjects
---
Engineering and Technology

Computing

Computer Science
Information Systems

Engineering

Life Sciences

Evolution
Heredity and Genetics

Mathematics

Algebra
Data Analysis and Probability
Number and Operations
Representation

The Nature of Technology
Audience
---
To use this activity, learners need to:
Learning styles supported:
Involves teamwork and communication skills
Involves hands-on or lab activities
Other
---
Components that are part of this resource:
This resource is part of:
Access Rights:
By:
Rights:
Funding Sources:
Brian Mason Scientific and Technical Trust
Google Inc.