---
Add to list
Go to activity
Activity link broken? See if it's at the internet archive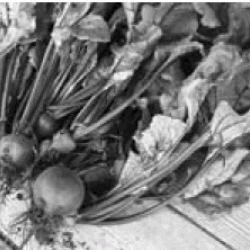 In this food science activity, learners observe different plant-originated foods. This activity will help learners understand that consumers (including humans) rely on producers, specifically plants and plant parts, for food. This lesson guide includes background information and variation ideas.
Quick Guide

---

Preparation Time:

5 to 10 minutes

---

Learning Time:

30 to 45 minutes

---

Estimated Materials Cost:

1 cent - $1 per group of students

---

Age Range:

Ages 8 - 14

---

Resource Types:

Activity, Lesson/Lesson Plan

---

Language:

English
Materials List (per group of students)
---
crayon or marker
plastic, serrated knife
piece of whole fruit, vegetable or grain
sheet of white construction or drawing paper, 9 in. x 12 in.
Subjects
---
Life Sciences

Diversity of Life

Plants
Animals
Classification

Ecology

Energy Flow and Chemical Cycles

Human Body

Digestion
Health and Nutrition

Mathematics

Data Analysis and Probability

Data Analysis
Data Collection
Data Representation

The Nature of Science

The Scientific Process

Conducting Investigations
Gathering Data
Communicating Results
Informal Categories
---
Food and Cooking
Nature and Environment
Audience
---
To use this activity, learners need to:
Learning styles supported:
Involves teamwork and communication skills
Involves hands-on or lab activities
Other
---
Components that are part of this resource:
Includes assesments for student learning:
This resource is part of:
Access Rights:
By:
Moreno, Nancy P. ; Tharp, Barbara Z.
Rights:
All rights reserved, Baylor College of Medicine, 2011
Funding Sources:
National Institute of Environmental Health Sciences, R25 ES10698
National Center for Research Resources, R25 RR13454