---
Add to list
Go to activity
Activity link broken? See if it's at the internet archive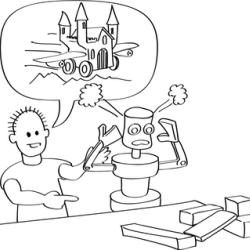 In this activity related to computer programming, learners give directions to a "robot" (either an adult or another learner) and find out which instructions the robot is able to follow, and how their instructions are taken literally. This activity will simulate how computers follow instructions very precisely, which can be frustrating at times. This activity also helps learners understand instruction set size (large complex vs. small efficient).
Quick Guide

---

Preparation Time:

Under 5 minutes

---

Learning Time:

10 to 30 minutes

---

Estimated Materials Cost:

$1 - $5 per group of students

---

Age Range:

Ages 6 - 18

---

Resource Types:

Activity, Lesson/Lesson Plan, Simulation

---

Language:

English
Materials List (per group of students)
---
Small collection of blocks or similar objects
Subjects
---
Engineering and Technology

Computing

Computer Science
Information Systems
Information Technology

Engineering
Technology

Information and Communication

Life Sciences
Audience
---
To use this activity, learners need to:
Learning styles supported:
Involves teamwork and communication skills
Involves hands-on or lab activities
Other
---
Components that are part of this resource:
This resource is part of:
Access Rights:
By:
Nelson, Richard ; Clutterbuck, Jason ; Höhna, Sebastian ; Marks, Stefan ; Siringoringo, Wilson
Rights:
Funding Sources:
Brian Mason Scientific and Technical Trust
Google Inc.