Source Institutions
---
Add to list
Go to activity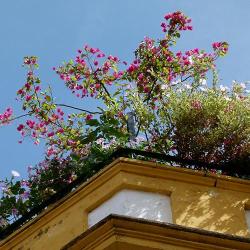 How does a green roof, or roof covered by plants, affect the temperature of the inside and outside of a building? Learners design and build houses to find out the answer. In doing so, they need to consider experimental design and controlling variables as well as cost constraints on building materials. Learners need to calculate surface area to calculate cost of materials. Learners then design an experiment and collect data to determine the effect of a green roof on a building. Time estimate for activity can be spread across multiple meetings.
Quick Guide

---

Preparation Time:

Under 5 minutes

---

Learning Time:

1 to 2 hours

---

Estimated Materials Cost:

$1 - $5 per group of students

---

Age Range:

Ages 11 - 14

---

Resource Types:

Activity, Experiment/Lab Activity, Lesson/Lesson Plan, Model

---

Language:

English
Materials List (per group of students)
---
foam core board or heavy cardboard (for creating two model buildings), ~15 x 20-inch [38 x 51-cm] sheet (which is half of the 30 x 40-in [~76 x 102-cm] size foam core board sheets typically available)
1-2 pieces of black tar paper, 6in x 6in [15 x 15-cm] (can use black construction paper)
1-2 pieces of sod (turf) and/or other sod or moss-like plants, 6in x 6in [15 x 15-cm] piece
1 piece of plastic sheeting, 30 x 30-cm; cut from plastic wrap or plastic trash bags
duct tape
hot glue gun (optional)
X-ACTO knife, utility knife and/or scissors, to cut foam core board, black paper, sod, tape, etc.
2 thermometers (at least one long thermometer so you can access the interior of the model structures)
1 heat lamp
1 electric fan
timer or stop watch
paper
pencils
4 sheets of graph paper
(optional) soil (if not enough soil comes with sod)
timer/stop watch (to synchronize students' time pieces; alternative idea: use a free online timer and project it in the room for all teams to see) (Optional)
HOBO data logger with probe (available at electronics and hardware stores; this instrument records temperatures at set intervals over a period of time and creates data tables and graphs; usually requires a computer) (optional)
laptop/desktop computer with LDC projector, Excel software, Internet access (optional)
Subjects
---
Earth and Space Science
Engineering and Technology

Engineering

Architectural Engineering
Civil Engineering

Mathematics

Algebra

Equations and Inequalities

Data Analysis and Probability

Data Analysis
Data Collection
Data Representation

Geometry
Measurement

Physical Sciences

Heat and Thermodynamics

Heat and Temperature
Heat Transfer

The Nature of Science

The Scientific Process

Asking Questions
Conducting Investigations
Gathering Data

The Nature of Technology

The Design Process

Research and Development
Invention and Innovation
Problem Solving
Troubleshooting and Maintenance
Audience
---
To use this activity, learners need to:
Learning styles supported:
Involves teamwork and communication skills
Involves hands-on or lab activities
Other
---
Includes alignment to state and/or national standards:
This resource is part of:
Access Rights:
By:
Samson, Carleigh ; Rivale, Stephanie ; Carlson, Denise W.
Source Collection
Rights:
All rights reserved, Regents of the Univeristy of Colorado, 2009