---
Add to list
Go to activity
Activity link broken? See if it's at the internet archive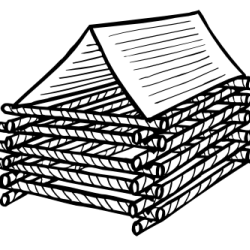 In this activity about problem-solving, learners build a house for the Three Little Pigs using twenty straws and two index cards. Learners then use a fan to simulate a tornado and shake the table three times to simulate an earthquake. Learners must alter their house design to make it sturdy enough to withstand the elements and house the pigs. This activity guide contains sample questions to ask, literary connections, extensions, and alignment to local and national standards.
Quick Guide

---

Preparation Time:

Under 5 minutes

---

Learning Time:

10 to 30 minutes

---

Estimated Materials Cost:

$1 - $5 per student

---

Age Range:

Ages 8 - 11

---

Resource Types:

Activity, Lesson/Lesson Plan

---

Language:

English
Materials List (per student)
---
3 small plastic pigs (or something to represent the pigs)
Fan
Straws
Index cards
Other miscellaneous supplies which may include tape, film canisters, cups, toothpicks, clay, small blocks, craft sticks, etc.
Subjects
---
Earth and Space Science
Engineering and Technology

Engineering

Architectural Engineering
Civil Engineering

Mathematics
The Nature of Technology

The Design Process

Invention and Innovation
Troubleshooting and Maintenance
Informal Categories
---
Animals
Arts and Crafts
Literature
Audience
---
To use this activity, learners need to:
Learning styles supported:
Involves hands-on or lab activities
Other
---
Includes alignment to state and/or national standards:
This resource is part of:
Access Rights:
By:
Rights:
All rights reserved, Children's Museum of Houston,
Funding Source: