---
Add to list
Go to activity
Activity link broken? See if it's at the internet archive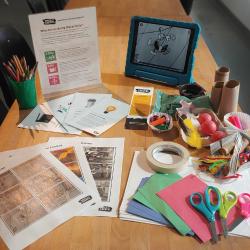 In this activity, children and adults work together to explore their relationship with technology and examine ways to make sustainable media consumption choices. Learners watch a short clip of a cartoon, then try a creative challenge to turn time spent watching videos into an interactive and imaginative experience. Activity includes step-by-step instructions with visual aids, downloadable materials, connections to the United Nations Sustainable Development Goals, and a video walkthrough. This activity uses low-cost materials and can be done at home.
Quick Guide

---

Preparation Time:

Under 5 minutes

---

Learning Time:

10 to 30 minutes

---

Estimated Materials Cost:

$1 - $5 per group of students

---

Age Range:

Ages 4 - 14

---

Resource Type:

Activity

---

Language:

English
Materials List (per group of students)
---
Media device with ability to stream or download videos to watch during the program
Creative challenge cards (a few copies, so multiple groups can work simultaneously)
Comic strip summaries and template (a few copies, so multiple groups can work simultaneously)
Colored pencils, markers, or crayons
Paper
Scissors
Tape
Variety of craft and recycled materials such as cardboard, egg cartons, yogurt cups, yarn construction paper, etc.
Small, simple musical instruments (optional)
Table sign (one copy)
Take-home bookmarks (one for each participating group) (optional)
Subjects
---
The Nature of Science
The Nature of Technology
Informal Categories
---
Electronics
Photography and Film/Video
Other
---
Components that are part of this resource:
This resource is part of:
Access Rights:
By:
Source Collection
Rights:
Funding Source:
The Rob and Melani Walton Foundation.