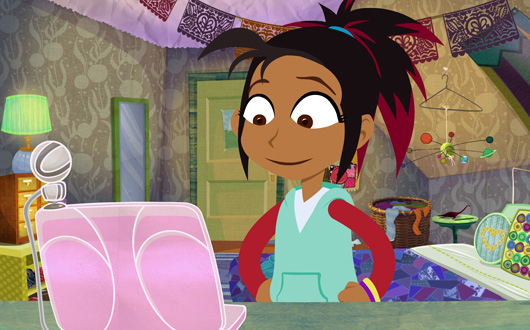 From updated science and technology content for Girl Scouts' badges, to a growing calendar of engineering-themed events for girls, future women engineers are getting the message "You go girl!" With 37 activities from the PBS SciGirls TV show, girls can take on engineering challenges like designing a piece of high-tech LED fashion, building a mechanical arm, testing a model solar house, and much more at Howtosmile.org.
Shot reality style for kids ages 8-12, SciGirls TV episodes highlight tween girls using science and engineering in their everyday lives. The show's goal is "nothing less than changing how millions of girls think about science, technology, engineering and math!" according to the SciGirls website. 
For Introduce a Girl to Engineering Day (Girl Day) on Thursday, February 20, try the SciGirls High Tech Fashion activity to build simple circuits and design a wearable bracelet with LEDs that light up. In Grab and Go, engineer a movable arm to pick up a paper cup. In House Warming, test paperboard models of buildings to discover how design affects the amount of heat entering a house. 
On Girl Day or any day, make engineering come alive by introducing girls to inspiring women engineers. Meet engineering professor Alice Agogino in the Howtosmile.org blog, and learn about other women engineers at engineeryourlife.org, a guide to engineering for high school girls. You can learn about engineering-themed events and many resources for girls from the Society of Women Engineers.