Source Institutions
---
Add to list
Go to activity
Activity link broken? See if it's at the internet archive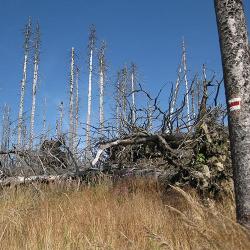 Learners conduct a simple experiment to model and explore the harmful effects of acid rain (vinegar) on living (green leaf and eggshell) and non-living (paper clip) objects. Learners observe the effects over a period of days. This activity has links to other activities which can be combined to make a larger lesson. Resource contains vocabulary definitions and suggestions for assessment, extensions, and scaling for different levels of learners.
Quick Guide

---

Preparation Time:

Under 5 minutes

---

Learning Time:

4 to 24 hours

---

Estimated Materials Cost:

$1 - $5 per group of students

---

Age Range:

Ages 8 - 14

---

Resource Types:

Activity, Experiment/Lab Activity, Lesson/Lesson Plan

---

Language:

English
Materials List (per group of students)
---
1 cup vinegar
1 cup distilled water
2 medium-sized eggshell pieces
2 small green leaves
2 paper clips
2 small- or medium-sized glass jars
Masking tape and pen (for labeling containers)
Two 1.5-inch strips of wide-range (0-14 pH) litmus paper.
Subjects
---
Earth and Space Science

Earth Processes
Earth Structure

Engineering and Technology

Engineering

Civil Engineering
Environmental Engineering

Life Sciences
Physical Sciences

Chemistry

Chemical Reactions
Acids and Bases
Solutions

The Nature of Science

The Scientific Process

Conducting Investigations
Gathering Data
Communicating Results
Audience
---
To use this activity, learners need to:
Learning styles supported:
Involves hands-on or lab activities
Other
---
Components that are part of this resource:
Includes alignment to state and/or national standards:
This resource is part of:
Access Rights:
By:
Kolenbrander, Amy ; Yowell, Janet ; Mach, Natalie ; Schaefer Zarske, Malinda ; Carlson, Denise
Source Collection
Rights:
All rights reserved, Regents of the University of Colorado, 2004
Funding Sources:
Fund for the Improvement of Postsecondary Education (FIPSE)
U.S. Department of Education
National Science Foundation, 0226322