---
Add to list
Go to activity
Activity link broken? See if it's at the internet archive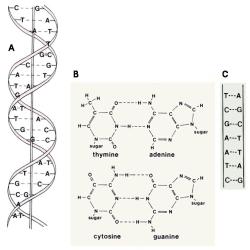 This demonstration can be used to help learners visualize DNA by lysing (breaking open) bacterial cells on a slide and "stringing up" the DNA with a toothpick in less than one minute. This technique can also be used to study bacteria because only Gram-negative bacteria lyse in 3% KOH; Gram-positive bacteria do not. The technique is equivalent to the Gram-stain reaction, but does not require a microscope or potentially messy stains. This lesson guide includes instructions for two demonstrations, suggestions for modifications for advanced classes, study questions with answers for learners, and supplemental information and references.
Quick Guide

---

Preparation Time:

1 to 7 days

---

Learning Time:

5 to 10 minutes

---

Estimated Materials Cost:

$10 - $20 per group of students

---

Age Range:

Ages 11 - 18

---

Resource Types:

Activity, Demonstration, Experiment/Lab Activity, Lesson/Lesson Plan

---

Language:

English
Materials List (per group of students)
---
plastic eggs, the hollow kind that open into two halves
string or yarn
chopsticks
Culture plates of Gram-negative and Gram-positive bacterial isolates
flat wooden toothpicks
glass microscope slides
dropper bottle containing 3% (w/v) potassium hydroxide (KOH)
Subjects
---
Engineering and Technology

Engineering

Bioengineering/Biomedical Engineering

Technology

Medical Technology
Agriculture and Biotechnology

Life Sciences

Cells

Cell Structure and Function

Diversity of Life

Viruses and Bacteria
Classification

Heredity and Genetics

DNA Structure and Function
Genetic Engineering

Human Body

Physical Sciences
The Nature of Science

The Scientific Process

Conducting Investigations
Formulating Explanations
Audience
---
To use this activity, learners need to:
Learning styles supported:
Involves hands-on or lab activities
Other
---
Components that are part of this resource:
This resource is part of:
Access Rights:
By:
Schumann, Gail ; Jasalavich, Claudia A.
Rights:
All rights reserved, The American Phytopathological Society, 2011