---
Add to list
Go to activity
Activity link broken? See if it's at the internet archive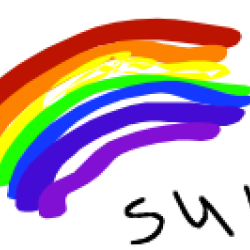 Learners observe different light sources, outdoors and indoors, using prism glasses (diffraction glasses) and color filters. Natural light (sun) and artificial light (lamp, candle, LED) sources are broken up into component colors by the glasses, and filters are used to block different colors. Both shadows and paints are also explained as types of filters. The activity is written as part of a kit that could be checked out of a library, though the kit is not required.
Quick Guide

---

Preparation Time:

Under 5 minutes

---

Learning Time:

10 to 30 minutes

---

Estimated Materials Cost:

$5 - $10 per student

---

Age Range:

Ages 4 - 8

---

Resource Types:

Activity, Experiment/Lab Activity

---

Language:

English
Materials List (per student)
---
notebook and pen/pencil
1
 pair
 of 
diffraction
 (prism) glasses (if available)
1
 large
 paint 
brush
1
 pair
 of 
scissors
toothpicks
flashlight, lamp, lit candle, and/or LED
1
 box
 of 
crayons
3
 pieces
 of 
cellophane: 
red, 
green, 
blue
ball bearing or metal spoon
glass of water or garden hose (if no prism available)
tape
paint (red, blue, yellow)
painting surface (paper, card stock, etc.)
Subjects
---
Earth and Space Science
Life Sciences

Human Senses and Perception

Physical Sciences

Vibration and Waves
Light and Optics

Lenses and Mirrors
Electromagnetic Spectrum
Reflection and Refraction
Sunlight and Color

The Nature of Science

The Scientific Process

Conducting Investigations
Communicating Results

Science as a Career
Informal Categories
---
Arts and Crafts
Nature and Environment
Outdoor Activity
Audience
---
To use this activity, learners need to:
Learning styles supported:
Links STEM to other topics of interest such as arts and humanities
Involves hands-on or lab activities
Other
---
Components that are part of this resource:
This resource is part of:
Access Rights:
By:
Shaw, Maisie ; Gomez, Maria
Rights:
All rights reserved, Passport to Chemistry Adventure Program, Mount Holyoke College, 2010
Funding Source:
Camille and Henry Dreyfus Foundation, Inc.