---
Add to list
Go to activity
Activity link broken? See if it's at the internet archive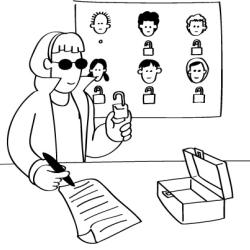 In this activity, learners conduct a simulation exercise related to public key encryption and try to intercept a message sent between two learners. This activity works with two learners but is most exciting with a large group. Use this activity to introduce learners to cryptography, authentication, internet security/privacy issues and internet commerce. Background information and further reading suggestions are included in the PDF.
Quick Guide

---

Preparation Time:

Under 5 minutes

---

Learning Time:

30 to 45 minutes

---

Estimated Materials Cost:

free per group of students

---

Age Range:

Ages 11 - 18

---

Resource Types:

Activity, Lesson/Lesson Plan, Simulation

---

Language:

English
Materials List (per group of students)
---
a way to annotate the diagram
Subjects
---
Engineering and Technology

Computing

Computer Science
Information Systems
Information Technology

Engineering
Technology

Information and Communication

Mathematics

Data Analysis and Probability

Data Analysis
Data Representation

Number and Operations
Reasoning and Proof
Representation

The Nature of Technology
The Nature of Science

Science and Society

Risks and Benefits
Ethics
Audience
---
To use this activity, learners need to:
Learning styles supported:
Involves teamwork and communication skills
Involves hands-on or lab activities
Other
---
Foreign language versions of this resource:
Components that are part of this resource:
Includes alignment to state and/or national standards:
This resource is part of:
Access Rights:
By:
Bell, Tim ; Witten, Ian ; Fellows, Mike
Rights:
Funding Sources:
Brian Mason Scientific and Technical Trust
Google Inc.