---
Add to list
Go to activity
Activity link broken? See if it's at the internet archive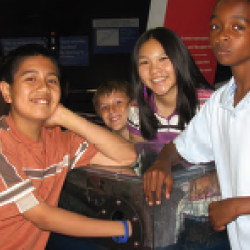 In this quick activity about predicting (located on page 2 of the PDF under Where's Nano? Activity), learners working alone or in groups will use toothpicks to probe a clay ball with a small object hidden in its center and then predict what's inside. Learners will share their predictions and how they came to these conclusions before opening the ball to see what is inside. This exercise illustrates how nanoscientists can still make discoveries studying things too small to see, using special probes to "feel" bumps at the atomic level. Also relates to linked video, DragonflyTV Nano: Where's Nano?
Quick Guide

---

Preparation Time:

5 to 10 minutes

---

Learning Time:

10 to 30 minutes

---

Estimated Materials Cost:

$1 - $5 per group of students

---

Age Range:

Ages 8 - 14

---

Resource Types:

Activity, Lesson/Lesson Plan, Simulation

---

Language:

English
Materials List (per group of students)
---
clay or Play-Doh
round toothpicks
several small objects such as: penny, marble, rubber band, raisin, marshmallow, paper clip, bead, etc.
Subjects
---
Engineering and Technology
Mathematics

Data Analysis and Probability
Measurement

Physical Sciences

Structure and Properties of Matter

The Nature of Science

The Scientific Process

About Inquiry
Conducting Investigations
Gathering Data
Formulating Explanations
Communicating Results
Audience
---
To use this activity, learners need to:
Learning styles supported:
Involves teamwork and communication skills
Involves hands-on or lab activities
Other
---
Components that are part of this resource:
Includes alignment to state and/or national standards:
This resource is part of:
Access Rights:
By:
Source Collection
Rights:
All rights reserved, Twin Cities Public Television, Inc., 2008
Funding Source:
National Science Foundation, 741749