---
Add to list
Go to activity
Activity link broken? See if it's at the internet archive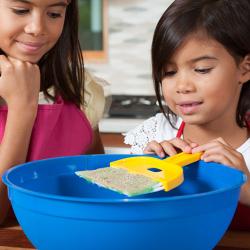 Our bodies produce snot, or mucus, that we blow from our noses. In this activity, learners will create a model of how snot works and will explore how it keeps our bodies healthy. While messy, this model using a small broom or brush and simulated snot does a good job to show learners the importance of mucus in protecting our lungs. Step-by-step instructions are included with photos. Activity guide includes a "What's going on?" explanation and connections to relevant science concepts like cilia, nose anatomy & function, and how mucus prevents sickness.
Quick Guide

---

Preparation Time:

5 to 10 minutes

---

Learning Time:

10 to 30 minutes

---

Estimated Materials Cost:

---

Age Range:

Ages 8 - adult

---

Resource Types:

Activity, Model

---

Language:

English
Materials List ()
---
Small broom or dust brush
Large pan of bowl
Approximately 250 mL (1 cup) of sand
2 gelatin packets
Mixing bowl
Spoon
125 mL (¼ cup) of hot water
25 mL (¼ cup) of corn syrup
Green or yellow food coloring (optional)
Subjects
---
Life Sciences

Human Body

Health and Nutrition
Respiration
Immune System
Audience
---
Learning styles supported:
Involves hands-on or lab activities
Other
---
This resource is part of:
Access Rights:
By:
Source Collection
Rights:
, The Regents of the University of California, 2015
Funding Source:
National Institutes of Health Science Education Partnership Award, 5R25OD010543-02.