---
Add to list
Go to activity
Activity link broken? See if it's at the internet archive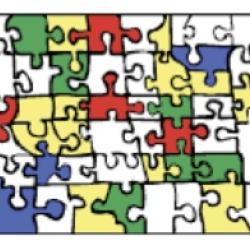 In this activity, learners use pedigree and jigsaw puzzles to explore how scientists use genetic information from a family to identify a gene associated with a genetic disorder. This activity will help learners explore the basics of human genetics including chromosomes, alleles, inheritance, mutations, and genetic pedigrees.
Quick Guide

---

Preparation Time:

10 to 30 minutes

---

Learning Time:

10 to 30 minutes

---

Estimated Materials Cost:

free per group of students

---

Age Range:

Ages 11 - 18

---

Resource Types:

Activity, Lesson/Lesson Plan, Simulation

---

Language:

English
Materials List (per group of students)
---
Subjects
---
Life Sciences

Heredity and Genetics

Patterns of Heredity
Human Genetics
DNA Structure and Function

Mathematics

Data Analysis and Probability

Data Analysis
Data Representation

The Nature of Science
Audience
---
To use this activity, learners need to:
Learning styles supported:
Involves hands-on or lab activities
Other
---
Components that are part of this resource:
Includes alignment to state and/or national standards:
This resource is part of:
Access Rights:
By:
Logan, Jennifer ; Mitchell, April ; Stark, Louisa ; Wilson, Ellen T.
Source Collection
Rights:
All rights reserved, University of Utah, 2005
Funding Source:
Howard Hughes Medical Institute Precollege Science Education Initiative for Biomedical Research Institutions Award, 51000125, 51000176