Source Institutions
---
Add to list
Go to activity
Activity link broken? See if it's at the internet archive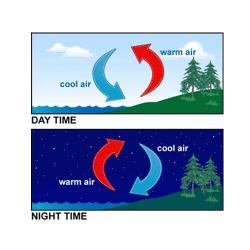 Learners color and cut out a spiral-shaped snake. When they hang their snake over a radiator, the snake spins. This is because the heated air is less dense and rises, pushing against the snake and causing it to spin. This is one of three demonstrations investigating convection currents and their effects on weather and air pollution. Resource contains vocabulary definitions and suggestions for assessment, extensions, and scaling for different levels of learners.
Quick Guide

---

Preparation Time:

Under 5 minutes

---

Learning Time:

10 to 30 minutes

---

Estimated Materials Cost:

free per student

---

Age Range:

Ages 8 - 14

---

Resource Types:

Activity, Demonstration

---

Language:

English
Materials List (per student)
---
Scissors
Thread
Colored pencils, crayons, markers, etc.
Subjects
---
Earth and Space Science

Earth Processes
Earth Structure

Engineering and Technology

Engineering

Civil Engineering
Environmental Engineering

Life Sciences
Physical Sciences

Motion and Forces
States of Matter
Structure and Properties of Matter

Mass and Weight
Volume and Density
Audience
---
To use this activity, learners need to:
Learning styles supported:
Involves hands-on or lab activities
Other
---
Includes alignment to state and/or national standards:
This resource is part of:
Access Rights:
By:
Kolenbrander, Amy ; Yowell, Janet ; Mach, Natalie ; Schaefer Zarske, Malinda ; Carlson, Denise ; Kotys-Schwartz, Daria
Source Collection
Rights:
All rights reserved, Regents of the University of Colorado, 2004
Funding Sources:
Fund for the Improvement of Postsecondary Education (FIPSE)
U.S. Department of Education
National Science Foundation, 0226322